NEXUS Engineering Corp.
- Spiral conveyor manufacturer in Taiwan.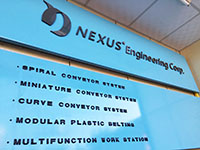 NEXUS is the expert and innovator in the field of material handling, specialized in the design and manufacture of spiral conveyor, curve conveyor, miniature conveyor and other integrated conveyor system.
We are your backup force, endeavoring to maximize your production capacity.
We help you to:
● Save space and cost in your factory
● Improve throughput and minimize down time
● Simplify the work of operation and maintain
We endeavor to advance our knowledge constantly to meet the new requirements of the users, insisting top quality and guarantee satisfaction for you.
Top security is guaranteed, and we promise to give you more!